Pepper & Asparagus Beef
I am trying out new ways to stay low carb, low sugar. Jorge Cruise mentions that bell peppers and Asparagus are super carb foods so I used those and some very lean beef sirloin to create a tasty and healthy dish.
Pepper & Asparagus Beef
(makes 3 - 4 generous servings)
Ingredients:
1 Bell Pepper (or more)
1 Bunch of Asparagus
2 cloves of garlic
Olive Oil (a few Tbs as needed)
6 - 8 ozs of lean, beef sirloin
Salt & pepper to taste
Sriracha hot sauce (optional)
Preparation:
Slice bell peppers

Cut asparagus into 1 1/2" pieces

Slice beef into thin strips

sprinkle with slat and pepper and set aside
Directions:
Heat Olive Oil in pan

Saute bell peppers and Asparagus in oil until they start to soften

Season with salt and pepper

Mince or use garlic press and add garlic to the peppers and asparagus

Add sliced beef to pan and continue to saute until the meat just turns brown outside. (I like my beef tender and a bit pink inside, if you like it more done, cook a bit longer). Do not overcook or beef will get tough.

Stir in a dash of Sriracha hot sauce or your favorite if desired.
So Good!
Jorge Cruise's Zucchini Cheese Fries
Wow, I just made a recipe from Jorge Cruise's "The Belly fat Cure - Fast Track" called "Zucchini Cheese Fries". This is Jorge's alternative to french fries. It was delicious!
These are super easy to make. I just made 1 Zucchini instead of the 8 - 10 he suggests you use to make 6 - 8 servings. I found that 1 egg was more than enough for making a single serving. I also used a combination of grated Parmesan and shredded Parmesan to give it more texture and crunch.
Here is the recipe for a single serving (I only ate half of this myself)
Jorge's Zucchini Cheese Fries for One!
handful of shredded Parmesan (or as needed)
handful of grated Parmesan (or as needed)
Olive Oil (just a bit for frying)
Directions:
Wash and slice ends of of the zucchini. Slice it crosswise to make 2 short pieces, then slice it down the middle and cut each half into halves & cut each of those into halves or 1/3rds again. The object is to get the zucchini slices to look like fries. You can make them thicker or thinner for your preference.
Beat egg with the dash of chili powder.

Put Parmesan cheeses on a paper plate.

Dip each piece of zucchini in egg mixture

gently roll and press the zucchini into the cheese

set aside until they are all breaded
Heat oil in a med to large fry pan. Just enough to put a nice layer on the bottom.
Fry in the olive oil turning gently on each of their 3 sides until golden brown and softened.

Drain each "fry" on paper towels.

Serve immediately or keep in a warm oven.
Baked Kale Chips
Great idea for a nutritious snack.
They are crunchy like potatoe chips but low cal, low carb and a great way to get your dark leafy green veggies!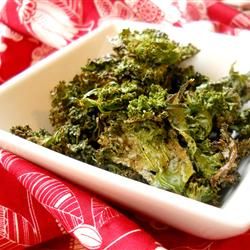 1 Bunch of Kale
1 Tbs (or less) of Olive Oil
Salt

Preheat oven to 350 degrees.

Wash Kale, remove tough stems and cut leaves into bite sized pieces. Be sure to remove as much water as possible. Use a salad spinner or set the kale on a clean towel to remove excess moisture.
Put Kale pieces in a zip lock bag with olive oil and salt, seal it and shake it up to coat the kale evenly.

Spread the kale in a single layer on a cookie sheet covered either with foil or parchment paper.

Don't overcrowd the kale so it can dry out and get crispy.

Bake in the oven for 15 - 30 minutes, check it often and turn as needed and remove the pieces that are ready. I put the chips on a paper towel to remove any excess oil and keep them crislpy!

ENJOY!

This recipe makes about 6 servings.



Nutritional Information


Baked Kale Chips

Servings Per Recipe: 6

Amount Per Serving
Calories: 58
Total Fat: 2.8g
Cholesterol: 0mg
Sodium: 185mg
Total Carbs: 7.6g
Dietary Fiber: 1.5g
Protein: 2.5g
Monday - March 21, 2011
From: The Gracious Pantry
(Please visit Tiffany's site for some great easy to make clean eating recipes)
Clean Eating Coconut Cauliflower
Chicken With Green Onions
(Makes 4 servings)
Ingredients
1 can light coconut milk
2 chicken breasts
1 head cauliflower
1 tsp. garlic powder
1 tsp. onion powder
1 tsp. cumin
2-4 green onions
Directions
Step 1 – Clean your cauliflower and steam it in a large pot.
Step 2 – Slice your chicken breasts into strips.
Step 3 – Place all ingredients (except the green onions) in a second pot and bring to a boil over medium-high heat. But don't let it boil too hard, or it will burn. Just a nice medium boil will do.
Step 4 – Using a meat thermometer, test your chicken when it looks done. It's finished cooking when it reaches 170 degrees F.
Step 5 – Ladle into bowls, add as much cauliflower as you like, top with green onions and serve.
Saturday - March 12, 2011
This is one of my favorites!
I
love Pasta but don't often eat it.
Now with the use of Brown Rice Pasta
you can enjoy it without as much guilt
6 - 8 Large Shrimp peeled & de-veined

1 cup cooked Brown Rice Pasta

"No Salt" seasoning such as Mrs. Dash to taste

1/4 cup of organic sauce in a jar. I like a tomato & basil type

2 Tbs low fat Ricotta Cheese

Splash of Hot Sauce (I like Hot Rooster Sauce)

Sprinkle of parmesan cheese
1. Rinse & pat the shrimp dry. Spray a pan with olive oil spray. Heat pan and add the shrimp. Sprinkle with a spicy "no Salt seasoning such as Mrs. Dash. I also like to add a tiny bit of smoked paprika. When shrimp are cooked remove from heat and set aside.
2. Add 2 Tbls. of Low Fat Ricotta Cheese to 1/4 cup of Organic Sauce. Add a splash of your favorite hot sauce. Heat well
3. Toss the cooked shrimp, 1 cup of cooked brown rice pasta and sauce mixture together. Sprinkle with fresh basil and a tiny bit of shredded parmesan cheese!
4. Mix everything together well
YUMMY!
Thursday - February 10, 2011
Friday - January 28, 2011
Today I ate at a small Tapas restaurant with a friend for my reward meal. It was great because I could have tiny tastes of everything without going too crazy in the calorie department. We shared a Coconut Panna Cotta that had strawberries, blueberries, raspberries & blackberries on it - yummy! Here is a much lower calorie version!
I Found this recipe on FewerCalories.com
Serves 6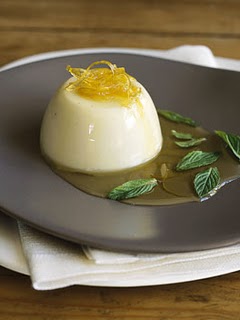 Fibre: o.8g, protein: 4g , fat: 35g
Calories/serving 367

WWpoints per serving 7
50oml/16floz double cream
7 1/2 tablespoons granular sugar substitute
teaspoons granulated gelatine
tablespoons water
25oml/8floz plain whole milk
yogurt
1 1/2 teaspoons coconut extract few grains salt
1 teaspoon butter
4og(1 1/2oz) unsweetened coconut shards
1. Heat the cream and 6 tablespoons of the sugar substitute in a medium saucepan over a medium heat, and bring to a simmer, stirring to dissolve the sweetener. Sprinkle the gelatine over the water in a cup and leave to stand for 5 minutes.
2. Take the cream off the heat, stir in the gelatine and cool until it is just warm. Whisk in the yogurt, coconut extract and salt. Set the mixture over an ice bath and stirring, chill the mixture to a batter consistency. Pour through a strainer into six custard cups, cover with clingfilm and refrigerate unt.il cold.
Meanwhile, heat the oven to 150°C/325°F/Gas 2. Melt the butter in a baking tin in the oven, add the cotonut and toss to coat. Sprinkle with the rest of the sugar substitute, toss again, spread out and bake for 4 to 5 minutes, then cool. Turn out each panna cotta and top with a tablespoon of coconut shards.
Tuesday - January 25, 2011
RECIPE:

Pork Loin Cutlet with

Mushrooms.
(Serves 4)
INGREDIENTS:
4 boneless, thin, center cut pork loin chops (fat removed)
1/2 - 3/4 cup of raw sliced mushrooms
1 shallot diced finely
2 - 3 Tbs of light Sour cream
1/4 cooking Sherry
Salt free seasoning or salt & pepper to taste
Olive oil
PREP:
Prepare the pork chops by banging them to about 1/8 - 1/4" thick with a meat hammer.
Dice the shallot very fine.
Slice your mushrooms if they are not already sliced
COOK:
In a large skillet heat a tiny bit of olive oil until it is hot
Add the shallots and saute them a tiny bit
Add the pork cutlets. Let them sizzle.
Season the side facing you with either a salt free seasoning such as Mrs. Dash or a tiny bit of salt and pepper.
The pork is very lean and will cook super fast.
Flip them over as soon as you see the edges are cooking.
Toss in the mushrooms and stir them around with the pork, they also cook very quickly.
Lower the heat
Add the sherry wine and allow the alcohol to cook out.
Add the sour cream and stir everything together! Serve with either brown rice or vegetables on the side.